Wedding days are meant to be joyous celebrations honouring the union of marriage between loved ones. They are supposed to be filled with fun, ceremony, and beautiful symbolism and imagery–ideally. For those getting married, there really is only one chance to capture the moment forever, and that's through photography. This, of course, makes things a bit nerve-wracking for the photographer; especially if it's your first ever wedding shoot.
If you find yourself dipping your toes into the wedding day photography scene, here are a few tips to make sure the happy couple gets the images and memories they deserve, and you will look like a rock star.
1.) Pre-Plan The Shoot
Every great wedding shoot begins with a great plan. It is going to be very difficult, and not to mention unprofessional, if you don't have a good idea of what you will be doing before arriving. You should know when, and what you will be getting pictures of at all times. Of course, weddings almost always come with a few hiccups, so you should remain flexible, but a solid plan is essential to success. Solid plans come into their own at Winter Weddings. These plans should be shared with the bride and groom before the big day. Not only so they know you're going to be doing the best for them, but they also have an idea what to expect on the wedding day.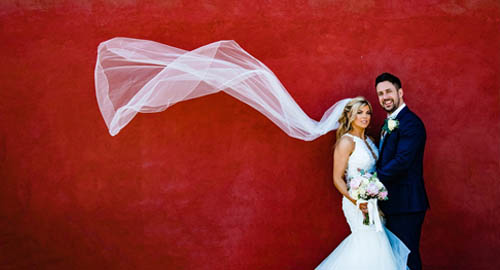 2.) Triple Check Your Equipment
Wedding photographers rely heavily on word of mouth advertising. This means that they need good reviews and positive 'press' in order to thrive. Nothing ruins a reputation quite like being underprepared, or unprofessional. Always, always, always make sure that you have everything you need before heading to the site. Consider making a premade check-list that you can fill out before every shoot to ensure that you have all of your equipment.
Pro tip: bring a laptop if you can, in order to backup your photos throughout the day, this prevents any catastrophic failures from happening. Also an external hard drive that way you have three copies. On the SD cards, on the laptop and also on the external drive. Always keep them separate too.
3.) Don't Forget The 'Firsts'
Weddings are full of 'first' moments. These are wonderfully candid instances in time that cannot ever be experienced again. The first time the parents of the married-to-be see their child in their wedding outfit; The first time the couple sees each other in the ceremony; the first kiss as a married couple; the first dances; these are all moments that need to be captured, and will be cherished by the married couple forever. Don't worry about planning these moments, simply focus on being 'aware' and do your best to capture them as they happen. The firsts are essentials, and need to be captured before considering anything else. I say to my kids, eat your dinner and then you can have your dessert. Wedding photography can be seen like that. Get the absolute essentials before doing the fancy nice things
4.) Capture The Guests And Family
Wedding photos shouldn't all be about the married couple. Sometimes, memories can be sweet when remembering the way that your loved ones experienced them as well. Many couples love to see how their guests and family experienced the day–especially since they may have been too busy to notice themselves. Always take time to capture the fun moments between the family members, and the guest list. Get plenty of group photos as well! This can be made easier by including a second photographer in your wedding packages
5.) Final Thoughts
A great wedding photographer is someone who knows when to make themselves noticed, and when to be invisible. Much of what is mentioned above will take practice, and experience, to 'nail down' properly. Just remember to always pay attention to the little things, and never show up unprepared. As long as you make sure you are ready, and allow things to happen organically, you are sure to capture some beautiful moments for the married couple to enjoy forever. Wedding days normally have the same flow and timeline. Once you know wha to look for and how to prepare, that is when your wedding photography will step up to the next level