So, you've finally popped the 'big' question–or at least had it popped to you. You're getting married, and all the excitement has started to bubble up as you begin to plan. The colors, the guest list, the menu, the photographer (that one's a no-brainer, right?!), it's all so exciting! But… Where are you going to host the whole thing?
Choosing a wedding venue is one of the hardest decisions a couple has to go through when planning their wedding. Balancing the budget, with location, and aesthetic appeal is all going to be a bit of a headache. Luckily, if you are in or near the Yorkshire or Cheshire area, there is no shortage of amazing wedding venues to choose from. Here are a few of my personal favorites!
Have you ever fantasised about getting married at Hogwarts? Have you ever wanted to have a magical English countryside wedding? Well, you're in luck! Located in the heart of Cheshire, is the Victorian era castle of Peckforton. This castle was built in the tradition of medieval castles which came before it, and provides visitors with a truly otherworldly feeling. The castle itself sits atop the towering hills of Peckforton, and provides a breathtaking view of the surrounding landscape–you can even see the neighboring ruins of Beeston Castle!
Peckforton Castle is perfect for a wedding venue that provides guests with an enchanted feeling, that is reminiscent of ages long past. This is the perfect venue for encapsulating the 'old English' feeling while also remaining luxurious and memorable for wedding-goers. Peckforton Castle truly is one of the most unique venues for weddings in all of England.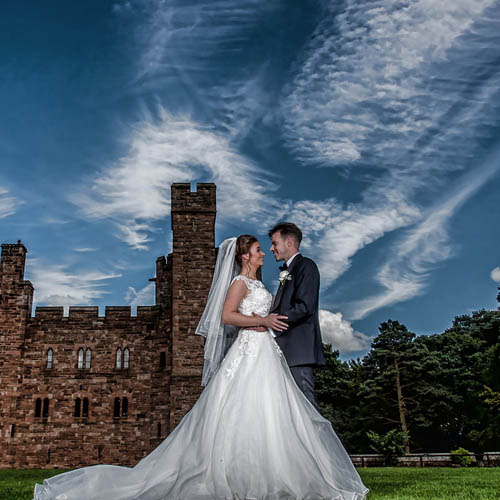 Not only is Peckforton Castle an amazing wedding venue in Cheshire, but I'm also the recommended wedding photographer. Being the recommended photographer at Peckforton Castle means you'll be in great hands, I have a fantastic knowledge of the buildings and grounds at Peckforton Castle and also a fantastic working relationship with the wedding co-ordinators and staff.
The Waterton Park Hotel in West Yorkshire is one of the most breathtaking sights in all of England, let alone Yorkshire. At the heart of the valley, among the beautiful hills, sits a small lake with an island at its heart. Upon this lake sits the antique stone hotel that travelers from all over the world come to see.
Not only is Waterton Park Hotel in Wakefield, West Yorkshire an amazing wedding venue, but I'm also the recommended wedding photographer.
This luxury hotel and wedding venue is perfect for those who are seeking a luxury-meets-rustic aesthetic for their wedding day. The surrounding lake and lush green hills provide wedding goers with awe-inspiring views, and will create wedding pictures that will be the envy of friends and family for years to come. Waterton Park Hotel is truly a sight to behold, and one of the most beautiful wedding venues in the whole of Yorkshire.
Waterton Park is one of the premier wedding venues in the North of England, hosting weddings from 6 to 145 people in their picturesque. Situated in Wakefield, West Yorkshire the wedding venue offers everything a wedding photographer could want to put a truly amazing wedding gallery together. Whatever the weather, or whatever the season, wedding photography at Waterton Park Hotel always yields amazing wedding photography.
Oulton Hall in Leeds, West Yorkshire might just be one of the best wedding venues around. With 300 acres of luscious gardens, and a 27-hole golf course as well as a spa, this 18th-century mansion is perfect for that 'aristocrat' wedding theme. Oulton Hall provides wedding goers with a feeling of being in a Victorian fairy tale, and holds all the charm and accommodations to fulfill that promise.
Oulton Hall is a building steeped in tremendous and exciting history from the time of one of England's most prominent families. You will be able to experience the luxury, class, history, and culture of the era when you host your wedding at Oulton Hall. Not to mention, the food here is exquisite! Oulton Hall is prepared to offer wedding goers and the married couple-to-be an experience they will cherish and remember fondly for years to come.
4.) Final Thoughts
Choosing the right wedding venue can be a pain; just remember that the day is all about each other, and the venue only adds to the experience. Once you find the venue that perfectly fits your dream, you are sure to have the rest fall into place!