This morning I took part in an open question and answers session with students who unfortunately weren't able to take part in their work experiences. Normally things like this I like to be face to face, have a good laugh with them and also try show them some easy technical things that will put them well on their way. However…… here is what we discussed…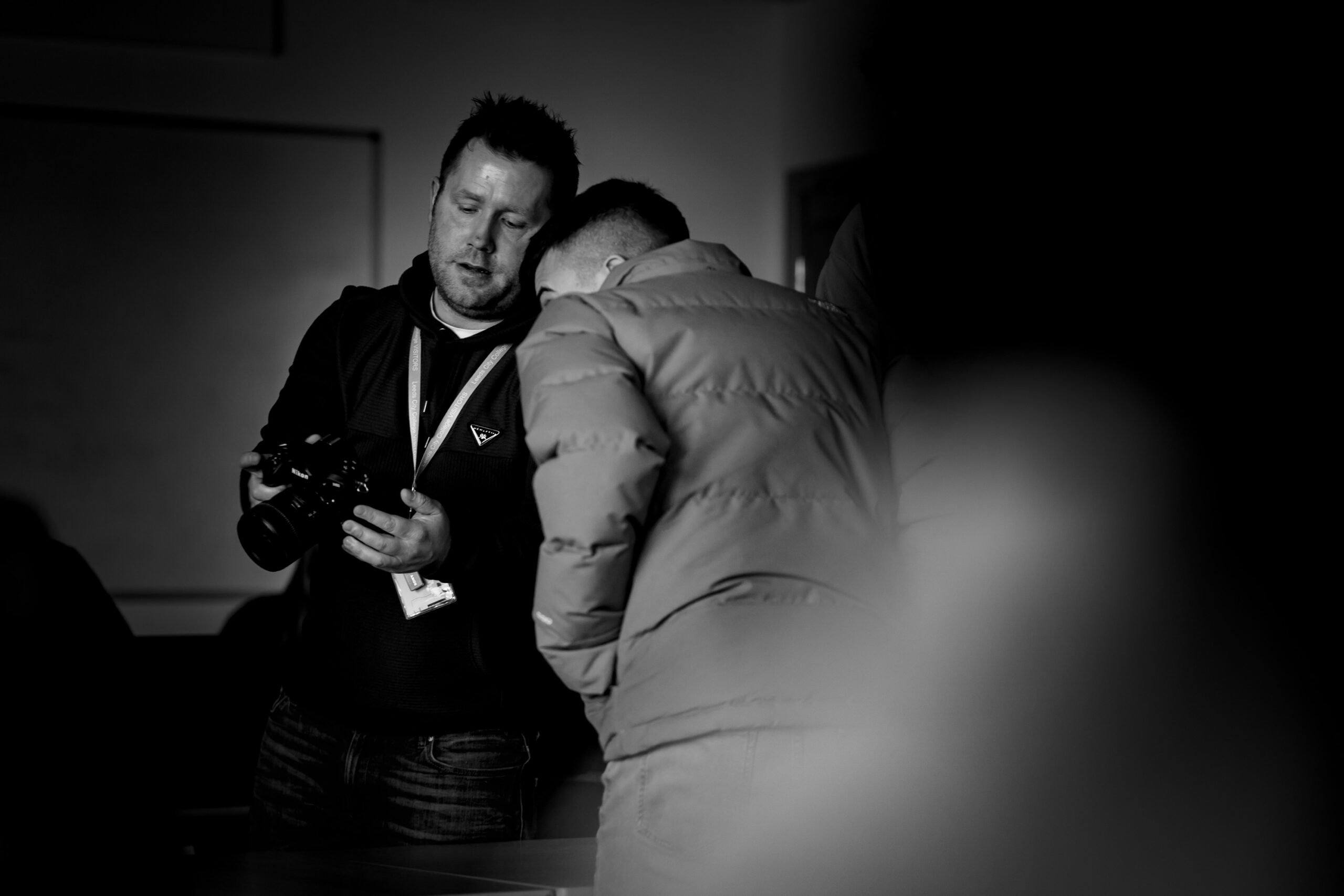 Hi Everyone. Welcome Matt. Matt is a Wedding Photographer based in Wakefield. I was lucky enough to be at my friends wedding in Sheffield where he was the photographer and also a couple of you were going to be spending some time with him as part of your work experience. Unfortunately that hasn't happened but he has kindly given up some of his time so you can ask him any questions at all related to his business and how he does things. Try keep them sensible
Q: Hi Matt, how long have you been a photographer? And how did it come about?
A: Ill answer any questions, sensible or not hahaha You know how easy going I am.
Thanks for having me. Firstly those of you guys who should have been spending work experience with me are welcome to join me at a wedding or in the office in the future. OK, a photographer for 8 years, but professionally, erm 6 I believe it is. It was a bit of a mistake really. I enjoyed my previous career. My wife pimped me out for her friends wedding, then after that a whole host of things happened in very quick succession. Two years later I was shooting 30+ weddings and I became full time.
Q: Canon or Nikon?
A: Nikon for me, I would have probably switched to Sony this year had the world not fallen to pieces. I also started with Canon. I just want to say, the camera isn't everything. Sure, they bring added security having your images written to two cards, and also allowing you to really squeeze out light in darker situations, but it really is who is hitting the shutter. Those who understand exposure, I can whack the ISO up really high in dark situations
Q: Is it just wedding photography you shoot?
A: Absolutely. I didn't want to be a jack of all trades, I wanted to put all my time energy and development into one style. It really does help for continuity and clarity in your head when you're working under pressure against the clock. As you progress you know what's coming next, or certainly have a good guess at what's going to happen. That helps when shooting the documentary part of a wedding day. That said I will photograph families if I have the time. I have done some family photography this year. They do go a bit hand in hand, but both specialist styles I would say
Q: Why weddings Matt? Is it because you can make a lot of money?
A: Straight for the throat hahaha!! I don't think we can hide from the fact that wedding photographers are expensive. On the whole, a well established, experienced and trusted photographer will cost over £1000 for the day.
Like I said earlier I fell into weddings. People loved what I did and the diary filled up pretty quick. I totally love wedding photography. Each wedding brings new people, new circumstances, new amounts of alcohol being consumed. Not to mention different weather and different venues. I guess each day of a wedding you have to be switched on with your brain engaged ready to react. I think to leave the Prison Service, it would have had to be a job which was very social, but meant I had to use my brain and be reactive. Dont get me wrong, they're completely different ways of using your brain and reacting. I haven't restrained a groom yet or anything haha. I guess what I mean is is that it isn't a job you can turn up to, completely take it easy and coast through the day. I am just not that sort of person. You have to repay the trust given to you by the Bride and Groom
Q: Why is Wedding Photography expensive?
A: You get one shot at it. If you balls it up, you cant get them back into the studio the following day, or meet the family again in the woods for another family shoot. So you are paying for that persons ability to produce under pressure, within timeframes and also the ability to produce what they tell yo they can
The equipment is expensive as well, equipment will be refreshed every 2-3 years. If you look on my website I listed everything that I carry here
Q: Do you have fixed costs?
A: Of course, insurance, subscriptions, computers, software, house bills are factored in as I have an office at home. There are lot of hidden costs to be honest. Loans which pay for my equipment. I don't often have £6k hanging around for new cameras haha.
Q: Which is your preferred method of marketing Matt?
A: I am mega mega lucky that the best venues in the north of England have me as part of their wedding family. They invite me to their wedding fairs which means I get to meet and showcase to couples who are getting married. I don't have to go fishing for them if you like. Also luckily over the past 3 years we built up some fantastic momentum where couples were booking me as they had seen me at another wedding. I did some maths last year and I think around about 67% of bookings had come from word of mouth or having already seen me at a wedding. At the start that was never my aim, I always thought I would have to invest in marketing. But doing your job with passion and a smile on your face goes a long way. What's also great about that, is that I know most couples in my diary really want me to be at their wedding. They have seen how we go about what we do and feel that I will 100% fit in with their friends and family. Its also extremely cost effective, reputation costs nothing so I can spend that money seeing the world with my wife and children. But reputation isn't immediate, it takes time, but, it can also be lost in an instant too. We have a laugh and a joke, but there is always boundaries that we won't cross. And wehen we need to be switched on, we 100% are!
Q: What do you mean about lost?
A: Erm, well at the end of my working day I won't hang around blasting shots down my neck and taking my shirt off on the dance floor haha.  (Lots of laughter) does that make sense? Hahaha
Q: So you don't believe in marketing?
A: I absolutely do believe in marketing. Just at the moment my way is a bit different to the norm. Some other successful wedding photographers use FB or IG, Google Ad Words, online wedding directories and things like that extremely succesfully. I am not naive at all in thinking that there will come a time when I will revisit these methods. Its just at the moment we have hit a sweet spot where bookings take care of themselves. Like I mentioned earlier, being reactive is key and I do have marketing strategies stashed away in my head when the need comes.
Q: Do you have set processes on the day, or do you just go with the flow?
A: Each wedding has what I call the back bone. Getting ready, ceremony, drinks reception, Speeches, Wedding breakfast, the lull and then the piss up. We work around this back bone in getting what we get. For instance, a winter wedding, its pretty hardcore shooting through drinks reception. Because that will be the only light we have in the day as opposed to a summer wedding. A summer wedding may be stifling hot, which would then lead me into encouraging Bride and Groom to have their photo's during the lull later in the day. That way they are more comfortable with the temperature. So I do have mini processes for each section of the day, but I don't turn up with my mind pre programmed. A few days before the wedding I speak with the couple and I always say its to put together a 'loose' plan. I say loose because as we all know things can happen, a rain cloud may appear out of nowhere. Does that make sense?
Q: What about post processing?
A: I love it hahaha.
Q: Hahaha, I mean do you have set processes there.
A: Absolutely. My stye of editing is something which is and has to be consistent. After all someone cant book me from what they see on the website, and then I deliver their images with a completely different feel to them. I cant just see a filter and think oh that looks cool, I will doctor that and use it at next weeks wedding. Process wise, I have a set workflow which works well. It is something I have developed over the past few years and can have a wedding culled, edited and uploaded in a day. Weddings with second shooters will need much longer as obviously the picture count has increased a lot.
Q: How many photos do you take a day?
A: Again this depends really. Summer/Winter wedding. Good weather/bad weather. 50 guests or 150 guests. If I had to put an average I would say I leave a wedding having taken 1700 photographs, roughly.
Q: How would you describe your edit style.
A: On the whole I would say true to life, I don't push it too far. If you push it too far, in my opinion it looks a bit OTT and some go too far and ruin skin textures. Sure we want things to pop in the big pictures, or really enhance a veil or a dress. But I don't go too far. I am not also a really big fan of some recent edit looks. Sure they are the fashion now, but in 10 years time you may look and think what the hell was I playing at editing that way. A bit like colour popping. 15 years ago they were the rage, most photographers these days look at colour pop photos chuckling with their head in their hands. Editing style is a personal thing, I try not to drift too far from reality, that way the likelihood of it falling off the fashion radar is pretty low. Photographs are timeless moments, I don't want to ruin it with an edit style that people may not like in the future
Q: Do you edit every photo Matt?
A: Every photo yes that has made the cull
Q: Whats the cull?
A: Hahaha, it sounds really violent, but it isn't. Basically we put all the photos on screen and cull down to the keepers, the photos we are going to edit and prepare for the Bride and Groom. Culled images include eyes closed, dodgy faces, duplicates, flash misfires, badly framed photos and stuff like that. The get deleted
Q: Apart from taking photos and editing, what other things do you need to do?
A: Great question, a real myth is that we turn up, shoot, go home, edit everything then have rest of the time off. There are lots of hidden things. Website updates including optimisation etc, Social media posting, Album design, meeting couples, going to wedding fairs both weekends and evenings. There is so much more. I would say shooting and editing is about 60% of the work we do.
Q: Do you get nervous?
A: Of course, as much as the backbone is the same every wedding, I do still get nervous. Not to the extent I was in the early days, but usually come ceremony time is the point where I will get a little bit nervous. Nerves help if I am honest. Makes you switch on a bit more, double check your settings. Last thing you want is to completely mess up ceremony photos. I have a mini process walking from the bride in her room to the front of ceremony room. Making sure I have everything and everything is set to how it needs to be.
Q: What was it like at the start? Early Days?
A: Night before I wouldn't really sleep very well, and if I did sleep I would dream about camera failure, forgotten to put cards in cameras, shot a wedding with the lens cap on etc hahaha At weddings I would be like a whirlwind, trying to chase everything.
Q: How has that changed?
A: Well I am back to a solid 10 hours sleep! I don't often dream about mishaps anymore. I also do a lot more watching at weddings, watching things happen so I know where I need to be. Rather than just   charging around. Again I think that change comes from experience and getting little mini processes in place within my head.
Q: Have you ever done anything embarrassing?
A: Yeah I stacked it big time once during the evening reception. Huge wet burn on my knee. Luckily very few people saw it and I styled it out pretty well. My assistant saw me and she couldn't stop laughing. One wedding I set off early in the morning when it was still dark. Unfortunately I put the wrong boxer shorts on- my Xmas Peppa Pig ones (Present from kids). Furthermore the Groomsmen were a real set of jokers and had caught the slightest sight of them when I was grabbing something from my bag. All day they made pig squeals at me whenever they saw me including a whole chorus of squeals when the Groom thanked me in speeches. The other guests questioned why they were doing that, 10 seconds later everyone in the room knew I was wearing Peppa Pig pants.
Q: How did you explain the knee injury to your wife?
A: Yay someone has woken up hahah!!! Yeah it was a tough one, considering I also had mud on my elbows.
Q: Whats the worst thing you've seen happen?
A: Ive seen people fall in mud- brilliant. I got the shot before helping her up. She couldn't stop laughing and was glad I photographed her. Obviously I had already figured out she wouldn't be offended if I was pointing the camera at her getting up off the muddy floor.
I was just about to photograph Bride and Groom once and their little one tipped a drink over the brides head. Without changing too many plans, we made it all happen and they had their photos later in the day. I have had a camera fail on me, but we carry three so that wasn't as much as an issue. I think after that failure, is when the dreams stopped. Thats pretty much one of the worse things that can happen, but it did and all I did was pack it away and get the other one out. No need to wake up in hot sweats. I always advise if youre going to shot a wedding, always have two cameras, your phone doesn't count as one!
Q: Are there any perks?
A: Of course, I get to smash the buffet at every wedding! Although due to my belly I said this year I wouldn't be doing much of that. No, I get to take and pick up my kids every day from school. The money is good, I will never be a millionaire, but its enough for what us as a family want out of life. Of course it helps that my wife is successful in her job. In the early days we saw her as a safety net in case I failed at this. I remember my first day being full time, I was pretty anxious. But the leap of faith paid off.  In the really early days failure wasn't an option, we put a lot of hours in. Me and my wife. Weddings are a fantastic workplace, everyone is in a good mood, its a great occasion so for me that is a great perk.
Q: What about bad sides of the job.
A: I initially didn't think there was any. Sure, in the week you are on your own at home, but I love my own space and time. In the early days I had my son at home with me before he started nursery and school. That was priceless time that I will never get back. That's another perk. I spent a lot of time with my babies. But now  weekends are where the core part of my work happens. The flip of this means now my kids are older, I miss out being with them on a weekend. 2021 was going to be a year where I regained a bit of that balance, but as we all know, 2020 has gone belly up meaning I have more than 100 in the diary next year. 2022 will be the re-balancing year, that's pretty much already happened with a new relationship with a very very popular venue. In 2022 I will probably only commit to 4 or 5 weekend weddings a month as opposed to every weekend day which has been the case for the last few years. The pandemic has been bad for everyone, but the weddings and events industry has taken a real kicking. Im not sure I would say that's a bad side, because its a once in a lifetime event is this bug and no one saw it coming. So I would say the only bad side really is that the work is weekend heavy. But ive worked weekends since being 22 so its the norm.
Q: What was the work like in the early days?
A: Wow, I still look back now and wonder how we did it. I know I always say I am lucky, but we absolutely deserved that luck to come our way. Myself and my wife, would often work into the early hours- ediitng, websites, blogs. Anything that needed doing, late at night was when it happened. She worked full time, I worked shifts in the service and we also had two children under two. We always say work never gets in the way of family and so that's why we did it like that. I probably aged 12 years in 12 months, but we built something we are proud of without sacrificing being a family. Some do things differently very successfully, but that was our way. I have a couple of friends who no doubt want to punch me whenever I say to them- no such thing as not enough time, if you want stuff to happen, get stuff done. That is probably my biggest piece of advice to anyone, get things done, work hard and you'll be giving yourself the best chance possible. Sure every now and then you need luck, but create your own luck by being in the best position possible.
Q: What are the 3 main qualities of a Wedding Photographer
A: Erm, well in my opinion. Because other photographers have different opinions on this. Photos- they have to be over a certain standard. These days, everyone can take half decent photos. If you get above that standard, you'll start to appeal and be able to charge for your work. Personality, this isn't something you can learn. A personality that makes people feel comfortable. That really allows you to get the best out of them. A previous assistant wanted to be a wedding tog, after two weddings she decided she didn't want to any more as it really didn't suit her personality. I totally understood that. She is a great photographer and is pursuing a career in fashion photography. Different styles of photography require different things personality wise. That probably throws the blanket over what I think are the main things. I could go into more detail but we all want to go to bed tonight.
Q: Isn't it really easy if you shoot at pretty venues?
A: Yeah that's a good question. Well, I would say, referring back to what I said earlier, the photos you take have to be better than what the guests will be taking on their cameras and phones. So if anything it can adda bit of pressure as you have to wow them when you deliver your photos. Guests will have their photos on Facebook the day after the wedding, so when yours go on, they have to be next level to wow people. Hope that makes sense?
Q: Does it annoy you when people jump in to take photos?
A: Not at all, everyone is there for the bride and groom and to get their own memories. I always tell guests to go for it as long as their photo isn't better than mine.
Q: What about the less pretty venues?
A: Crap venues that are rubbish for photos?
Q: Hahaha yes.
A: Hahaha, only joking. Well often than not if a couple book me for a venue which isn't very photo friendly they will tell me on booking. Matt we chose this place because its where we met, or the venue put a great deal on, or whatever, but the venue really isn't that great for photos. I always say that's fine, its my job to take the photos, their job is to have a good day. There are always little things you can do to carve a great photo out of a location. If anything you could see that as being less pressure as the bride and groom have already said its not very photogenic so already have their expectations. If you pull out some belting photos your hero level has just been boosted a million times. Hope that makes sense too? Oh, and take 10 minutes out for a walk around and see what jumps out at you
Q: Which is your favourite photo?
A: Personal or Wedding?
Q: Both if that's ok?
A: Sure, I love photographing my children as they work their way through life. They are exact opposites too. So I got to get some lovely photos of Grayson when he was a tiny boy who always needed his Mummy. I am cheating here by the way. So prob a shot of him in the shower with his Mummy. He was soooo nervous but so happy and obvs Mum was their holding his hand. Or When he was about 2 days old and Steph has got him out of the bath and is cuddling him, she didn't know I had taken either photo. Poppy is such a confident beast. So either the one of her charging towards the ocean at sunset on holiday, or her in Marrakech with a spooky looking character behind her. So yeah, not 1 buddy, but 4 photos there!
Wedding wise, well I am not going to answer this how you may think I will. Believe it or not I don't have one. What I will say is the important ones are without a doubt not only the ones that go on the wall in couples houses, but the ones people will look at to get some comfort from. Sounds pretty deep, but no one is getting out of here alive, and at a wedding its pretty nailed on the couples nearest and dearest will be there. I totally want to get them interactions and moments between them.
I won't name them, but only this year two couples I have photographed have since lost a loved one. I know they cherish the photos I took of them and take a lot of comfort from them. I hope you see where I am coming from with that answer?
Q: Which mode on your camera do you use Matt?
A: A mix of aperture and manual. I would probably say a 50/50 mix. The internet has idiots loitering everywhere, I remember in the early days some saying you could only be a professional if you can shoot in manual. Thats complete rubbish. The final image counts, not how you got it. I could go on my website now and couldn't tell you what mode I shot each photo in.
Q: What is the most important technical part of taking a photo?
A: Setting wise?
Q: Sorry yes
A: Shutter speed, you cannot fix a blurred out of focus photo, fact!! You can make up a bit for aperture, ISO, crop etc, but if your out of focus, its going in the bin. Thats why as I move to different areas, or from outside to inside I will always run through my mini process I mentioned earlier
Q: How would you recommend I start my wedding photography career?
A: Its a career where you have to build up to it. I cant say right today I am going to be a wedding photographer. Because the chances are you won't shoot a wedding for a while. Generally I am booked up 18 months in advance. Get experience, see if you like it. There are some photographers who like to invest in younger people, ask around and you will find one who will give you an insight and experience. I found one of my assistants who simply asked for a bit of experience. Then you'll need to create awareness, building up that brand and reputation, building relationships with others in the industry. And of course work your ass off. These things no doubt will be done alongside you working another job initially so be prepared. Also be prepared to potentially shoot some free stuff to get the ball rolling if you need to.
Q: Did you shoot for free?
A: I have done some bits and bats for free. What we will do from time to time is once we hit a certain point in the diary, enough in for the year, I may put a deal on, say half price wedding, and then that money will go off to a cause. We try do a couple a year. So although it isn't free for the couple, I am technically working for nothing. But it isn't for nothing really as someone will hopefully benefit.
Q: What about COVID?
A: Its been sh*t hasn't it! We survived it though, still haven't got my taste back 6 weeks on
Q: Haha, I mean how has it affected your business
A: Without going into too much detail, its annihilated a lot of peoples businesses in the wedding sector. I stopped counting the financial loss in June I think it was. It really wasn't pretty. I won't tell you how much hahaha
Q: Come on!!
A: No because you will all feel sorry for me and send me Christmas cards with cash in haha. I stopped counting at I think it was £25k back in June/July. A lot has happened since then aswell including taking on considerable debts in order to survive. So its a hell of a lot more now. But we have survived- so far.
Q: Would you have gone bankrupt?
A: No, my boss has been the hero of the year!! If she reads this she will remind me of this every day. Plus I would always have my cameras. I am self employed so they belong to me not an asset of a business if it went bust. So I would always be able to stick to my commitments. We looked at me getting other jobs, but the hassle it would have caused would have been a real pain as my kids are only 8 & 6. And then if I got a job, school closed due to COVID I would have probably get sacked. Worlds shortest employment history haha.
Can I just go back to the previous question. The financial hurt for everyone has been horrendous. But the mental impact has been just as big. When you rely solely on weddings you have don't just have your income wiped out, but your sense of identity and purpose. That really hurt me in the summer, Matt Nicholls Photography who hadn't taken a photo since March. I know I am not alone in saying the mental hardship was a real struggle this year.
Back to bankrupt, many of my future couples know me, or have gotten to know me. Some couples offered to pay their invoice balance even though the wedding was postponed until 2021. One couple went one step further and sent me a card with really awesome words in and a gift. I never ever forget things like that.
Q: How do you pay them back? Take like 10,000 photos haha?
A: They know that they will be getting a great shift from me hahaha. All my couples do, I leave all my energy at a wedding hahaha.
OK, thanks everyone, Matt that was great, extremely enlightening. Hopefully we can get some more work experience arranged next year
Thanks for having me, Im always happy to answer any questions if anyone wants to mail me. Gets me out of doing some housework.